Japan Train Journey - Hiroshima
May 17, 2023
It was a beautiful sunny morning when I arrived at Hiroshima station. The Shinkansen ride in was a pleasure, as they usually are, and I was ready to spend a day taking in all that Hiroshima had to offer.
I made my way to the Hotel Integrate Hiroshima from the station, only stopping to take the occasional picture. The bridges over the rivers offered pristine views of the modern high rises with the lush set of hills laying in the background.
I stopped at the hotel and dropped off my luggage, as I wanted to make my way towards the Hiroshima Peace Memorial Park. I'd read that Hiroshima was a fun city, but I didn't want to completely overlook the dark event that most of us associate with the city.
The area around the Peace Memorial Park was littered with tour busses and crowds following tour leaders with their flags held high to ensure that they didn't leave anybody behind. A part of me felt weird watching all of these tour groups being lead from place to place, as it could be seen that the tour groups are profiting from tragedy - but I also realized that I wasn't all that different as a self-directed tourist.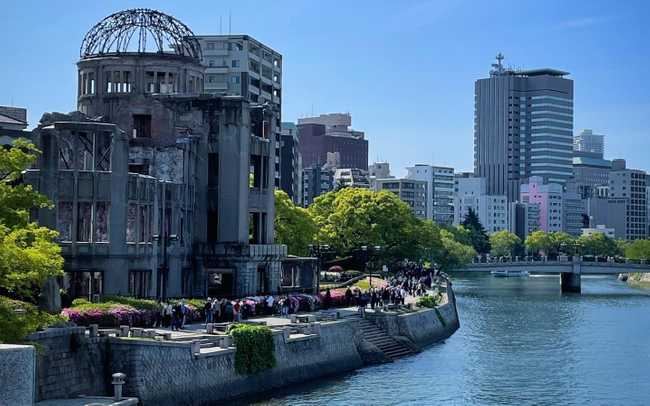 Genbaku Dome
One of the first places I saw was the Genbaku Dome, which is nestled next to a bridge that leads to the Peace Memorial Park. It was one of the few buildings left standing in the atom bomb's wake, and was left as it was that day as a memory of what had happened. The harsh reality of war is left on display in the middle of a beautiful city.
I crossed the bridge and made my way southwards through the Peace Park, stopping to look at the various memorials. I stopped for a while at the Children's Peace Monument and remembered that my class in elementary school had made paper cranes like the ones that were on display. The cranes are stored in several structures and protected behind glass - I gathered that they refilled the structures as schools sent them in. It was nice to see that the tradition of remembering the impact the bomb had on the life of Sadako Sasaki is ongoing.
I knew that the Peace Memorial Museum wasn't going to be an easy pill to swallow. I had wrote a paper in university that had concluded that the bombing was justified - I stated that the use of the bombs resulted in less deaths than if traditional warfare had continued. Nobody will ever read that paper since it was a boring undergraduate essay for a 100 level history class, but I still regret coming to that conclusion. The museum ensured that regret would grow.
I spent the most of the time in the museum with wet eyes. I viewed the clothing and playthings of children that had died in the bomb, whether from immediate impact or subsequent effects. I read the stories of people that had died immediately from the bomb, succumbed to burns shortly after, or got sick from radiation several years later. Several of the exhibits also went into detail about how the lives of survivors were often left in ruin. It was absolutely awful.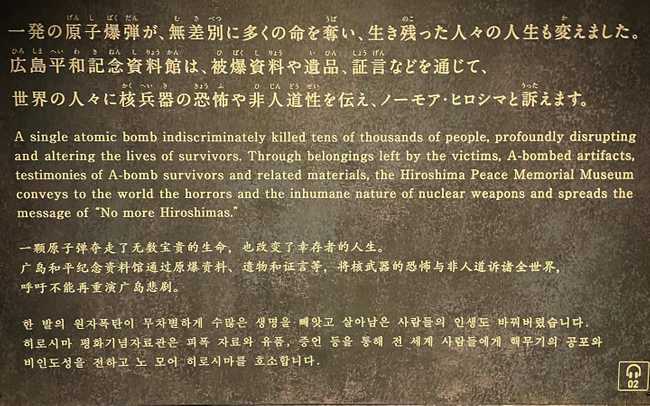 The message of the Peace Memorial Museum
Once you've passed through the exhibits, they have an area where you can sit on some benches and look at the park through some very large windows. I sat there and looked at the park, thinking about the cruelty that people inflict upon each other and how technology allows us to depersonalize and scale the horrors that we inflict.
I walked out of the museum feeling pretty awful. I needed a pick-me-up - I didn't think it would be fair to the Hiroshima of today to entirely focus on something that had happened over seventy years ago. I had read that the Hiroshima Carp put on a hell of a good game of baseball - I don't really like baseball, but the idea of being in a stadium full of people having fun and cheering on something they love felt sounded like a great idea. I checked my phone and realized the Carp were playing a game that day!
The website was a standard Japanese website - meaning that it wasn't very well made and didn't let me do much on it. But it let me see that a few seats were still available! It said that tickets could be bought at a number of local convenience stores, so I made out of the park and figured that if I couldn't get a ticket from a konbini then I'd just buy one at the gate.
I stopped at a few different FamilyMarts and 7-11s and tried to buy tickets - but it turned out that all ticket sales were done through self serve kiosks. I asked some of the employees for help, but the language barrier was a bit too much. Even when I snuck into a store and tried to use a machine by myself I realized that they were a bit too complex for me to figure out. Since the website said some tickets were still available, I figured I'd just walk across the city to the Zoom Zoom stadium and try to buy one at the gate.
As I made my way across the city and got closer to the stadium I started to see more and more people wearing red, the colour of the Hiroshima Carp. I was wearing a t-shirt that had red sleeves, a white body, and my jeans were blue. I realized while I was in the museum that the colours I had worn that day weren't the best choice. My clothing choice would continue to be a problem - when I was looking up seats online I noticed that there was an area labelled "Visitor Performance". From the little I know about baseball they looked like would offer a good view of the field. I was determined to sit in this area.
I walked down to the ticket sales booths and asked for a "Visitor Performance" ticket. The woman working the booth raised her eyebrows, and I confirmed that was what I wanted, pointing where I wanted to sit on the stadium map. I should have read her body language and realized I wasn't asking for seats in the right area, but in the end it was a memorable mistake.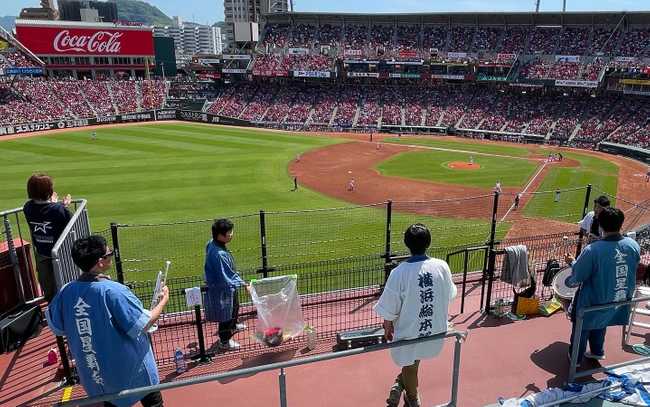 The view from "Visitor Performance"
After I got my ticket I made my way up several staircases to where my seat was, and I realized that it was the section reserved for the visiting team's fans, the Yokohama Baystars. Their primary colour was blue. I wasn't wearing anything that made me look like a Baystars fan - as a matter of fact my clothes made me look more like a Carp fan. And as soon as I sat in my seat I realized the sun was beating directly on me, and I didn't have anything to protect me other than the black rain jacket I had foolishly left behind the day before.
If I hadn't bought tickets in this section I could have bought a Carp hat and jersey to protect me from the sun. It was still an hour or so before the game started, so I wandered the concourse hoping to find some Baystars gear. There was none to be found.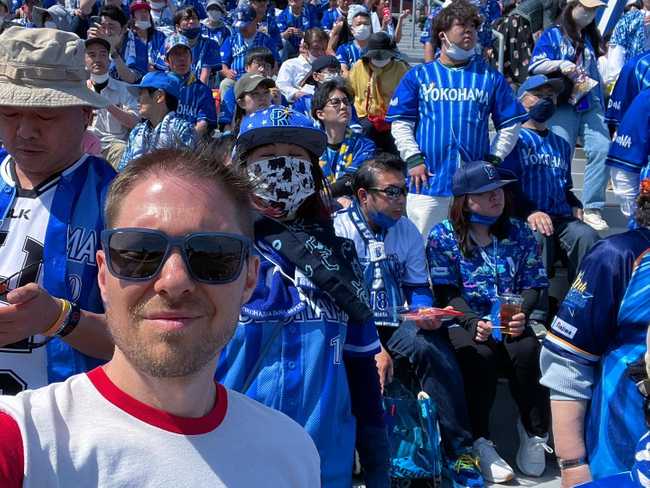 I'm not dressed for this section
I realized with how hot it was that I was in trouble, but there was nothing I could do. All I could do was enjoy the game. In an attempt to mitigate the impact the sun would have on me I hung out in some of the cooler areas of the concourse and tried to avoid the sun. My wife sent me messages asking me to figure something out, but I knew that I would just need to deal with the sun and enjoy the game.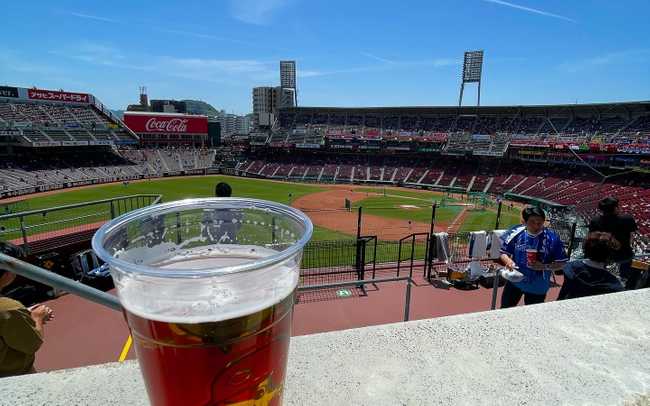 Maybe a beer would protect me from the sun?
Although I ended up with a killer sunburn I had a great time. Sitting in the superfan section of a Japanese baseball game is really something else. There are a number of cheerleaders that stand up and yell at the crowd to yell along while a brass band plays and huge flags are swung in the air. I awkwardly stood up with all of the Baystars fans whenever they were up to bat and tried my best to chant with them. Sitting down when their team is up to bat does not seem to be an option.
I made it to about the seventh inning before I decided I had to head out - the sun was too much and I needed to escape as I could feel that I was burning. I casually made my way past the fans and left the stadium. It was about then that I realized my knuckles were bleeding a bit, seemingly from too much sun. Over the rest of my trip my arms would be continually peeling from the burn that I got. But it was worth it - standing and chanting with the rest of the fans is something I'll never forget.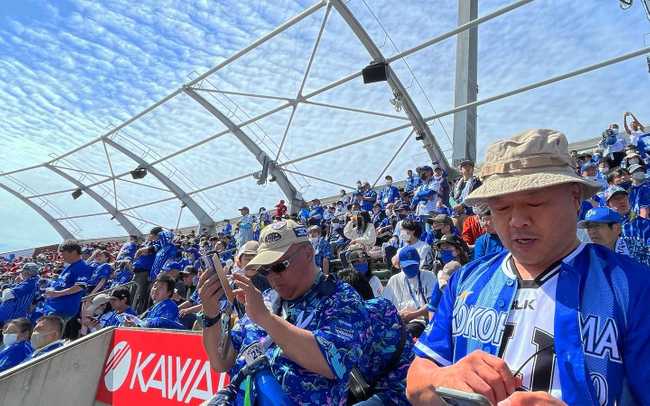 Yokohama Baystar fans enjoying the game
I made my way across the city in an sunburned haze and finally checked into my hotel and thought it was nice that they had already put my bags in my room. I changed into the provided pyjamas and treated myself to the sento in the hotel. Since I had missed a shower that morning thanks to the Sunrise Express not having enough tickets, it was one of the most refreshing sentos I visited while I was in Japan.
After that I wandered the streets of Hiroshima and grabbed a bowl of average udon noodles before heading back to the hotel. It had been a full day and I was ready for a good night's sleep. And it was.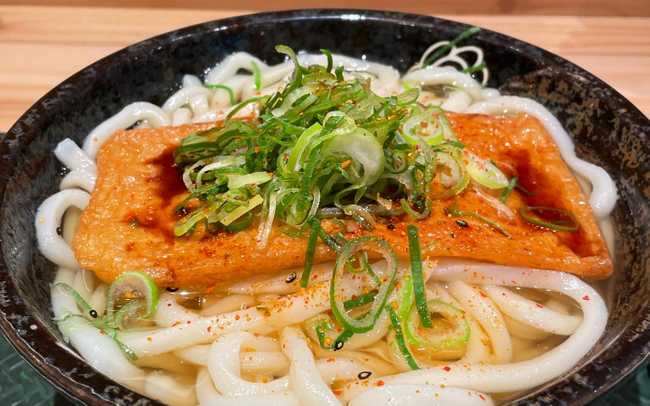 Some ok Kitsune Udon
I woke up in the morning and figured that I'd get out for a wander before checking out of the hotel. I wandered through what is apparently the nightlife district of Hiroshima, but of course it was completely asleep at 8am. The only thing that was open was Mister Donut, so I figured I'd stop in there for breakfast. It was far better than anything Tim Horton's offers nowadays, that's for sure.
I made my way to Hiroshima Castle and found it wasn't open yet, so I took some pictures and headed back to the hotel, as my checkout was approaching and I had to catch my train to Okayama. I figured I'd get an ekiben for the train, since I hadn't tried one yet.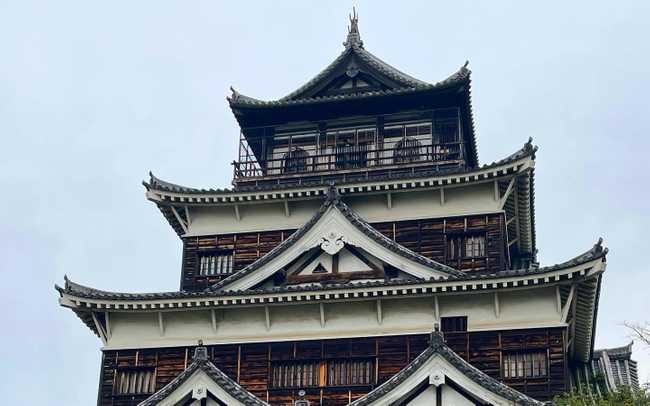 Hiroshima Castle
I got an ekiben that had a series of pickled vegetables and salmon - the pickled vegetables were delicious, but since I hadn't eaten fish in several years I didn't stop to think that the salmon might have bones in it. I ended up with a mouth full of bones, so I ended up spitting the salmon into the sanitary napkin the store had given to me. It tasted good, but geez that was a lot of bones.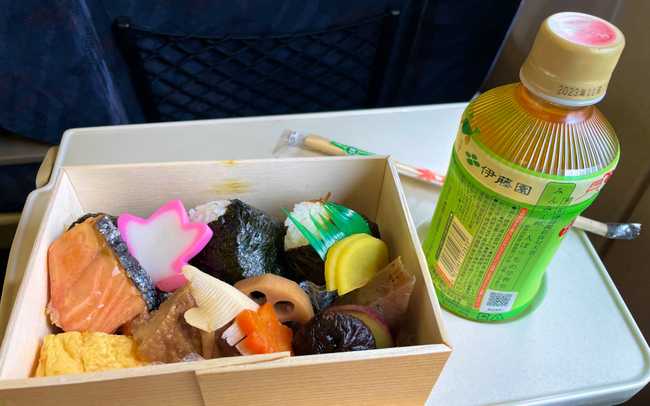 Ekiben!
I went on to Okayama with high spirits - it had been a very full day in Hiroshima but I was excited to cycle the Kibi Plain.
---