Japan Train Journey - Tokyo, Part 2
May 10, 2023
I had another sleep that wasn't very good - I had hoped that the drinks I had in the evening would have helped me sleep through the jet lag, but I should have known that it wouldn't work - because it never works. I woke up at 5:30am and with my jet lag being so bad it ensured that I was out of my hotel room by 6:30am and headed for Tokyo Station.
I wanted to get to Tokyo Station early so that I could book all of my Shinkansens for the rest of the trip, as my last week in Japan butted up against the beginning of Golden Week, which is one of the busiest travel times for the country. Another advantage of getting to the station early was that I had a better chance of getting a coin locker that was big enough to stash all of my luggage. I was already a bit sore from lugging my backpack the day before, so I wanted to try to leave as much behind as possible.
Booking the Shinkansens was easy thanks to the QR code on the newer Japan Rail Passes - I was able to do everything through the self-serve ticket machine and it only took me about ten minutes. Since I was at the station so early there was little demand for the ticket machines, so I didn't feel like a jerk for using the machine for so long. I felt a sense of ease knowing that all of my transportation from city to city was covered as long as I made it to my trains on time. In retrospect, in the rare situations where I needed to transfer I should have given myself less buffer time. I'm pretty used to inefficient transit in Victoria and always budget for something going wrong, so I thought I'd need at least an hour for each transfer, but to be honest 15 minutes would have been more than enough.
After stuffing my luggage in a coin locker I decided I would check out Odaiba, mostly just for the Statue of Liberty and Gundam Unicorn statue. This would involve a bit of back-tracking, as Odaiba is close to Shinegawa Station, where I had just come from, but I had a lot of time to kill.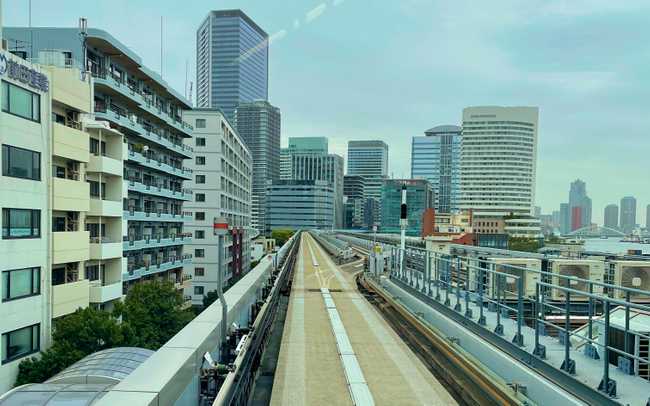 Front seat on the Yurikamome
The trip to Odaiba was really nice - I took the Yurikamome, which is a self-driven train that really reminded me of Vancouver's Skytrain. You can sit at the very front of the train and get a great view of the city as you make your way across the Rainbow Bridge.
Odaiba itself wasn't all that interesting - granted I was there too early in the day for much to be open. It's billed as a shopping district and has a number of big malls with tacky statues intended to draw tourists in, such as the previously mentioned Statue of Liberty and the Unicorn Gundam statue. It was kind of amusing to see a recreation of the Statue of Liberty in front of the Rainbow Bridge, but it was also a chilly morning and I had foolishly left my jacket in the coin locker, so I had to keep myself moving.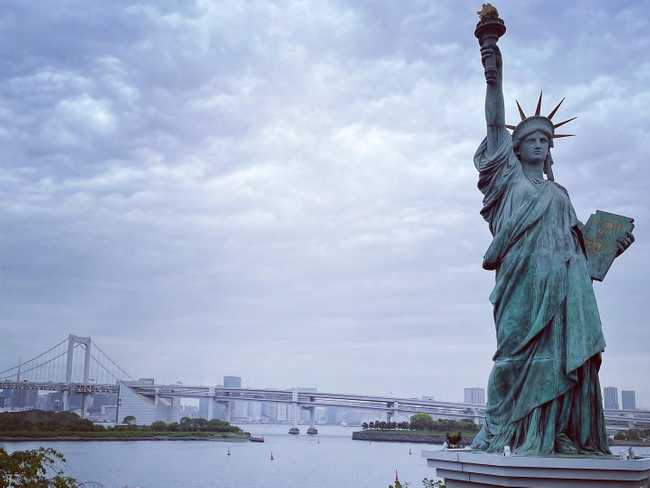 Statue of Liberty, ala Odaiba
As I wandered from the Statue of Liberty towards the Unicorn Gundam statue, I was pretty impressed by the architecture on the FujiTV Building. I would have liked to check out the observation deck inside the big sphere at the top of the building, but I was there too early in the morning and it wasn't open yet. After I snapped a few pictures of the Unicorn Gundam statue I made my way back towards the Yurikamone. On the ride back I was lucky enough to get a seat at the front and really enjoyed the trip, recording a bunch of it with my phone pressed up to the glass.
While researching before the trip I realized I might be able to catch the Naki Sumo Crying Baby Festival. Details online were scarce about when the actual date and time would be, but I saw on one site that it was happening at Senso-ji on this very day at 11am! I was determined to make that my next stop, and I arrived at the crowded Nakamise Shopping Street that leads to Senso-ji at 10:30am.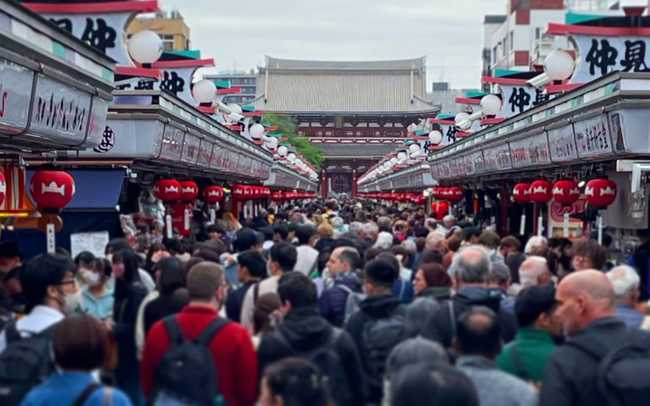 Busy Saturday on Nakamise Shopping Street
Nakamise Shopping Street was shoulder to shoulder - probably one of the busiest places that I walked through in Japan other than Shibuya Crossing. Since it was Saturday morning everybody was out and about checking the various stalls that line the street, enjoying their weekend. I ignored most of the stalls as my sights were focused on Senso-ji. I made sure to put my mask on, since I really didn't want to get sick. I got the flu when I was in Japan in 2017 and I wasn't eager to revisit that while traveling by myself.
As I got closer to Senso-ji I started to worry that the website had mislead me - I couldn't see anything that looked like it could be a stage for the Crying Baby Festival. I looked online for some more information, and realized that it happened behind the temple. I made my way in that direction and hoped that what I read was true.
And it was! Not that many people were gathered around the stage yet so I was able to stand in the front row. The only downside was I was really starting to regret leaving my jacket in the coin locker. It wasn't nearly as warm as the day before. It had easily dropped close to ten degrees, and I was feeling it. But I was determined to see the Crying Baby Festival, so I stood in place for half an hour before it started.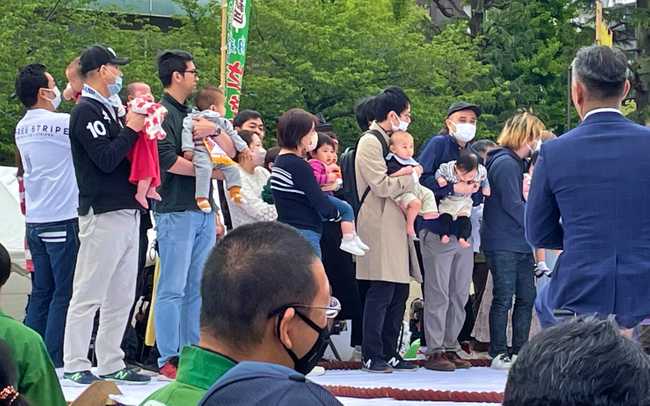 Babies and Parents
There were a lot of speeches that I didn't understand, there was some chanting, and all of the the baby holding parents did a lap of the stage while the announcer introduced them. I was ready for the first battle, I was psyched to see a baby cry-off. And It delivered. Although I left after about 30 minutes, due to my back being sore and needing to move around since I was so cold, I really enjoyed being able to see some of the babies face off. Apparently the festival was done a little differently this year due to COVID concerns: normally sumo wrestlers hold the babies, but this year the parents themselves held the babies while the announcer hollered "nanana ge! nanana ge!" in a playful manner. It was fun.
Since it was close to noon I figured I'd warm up a little in a MOS Burger and try one of the vegan burgers that they were advertising. It was alright - I'd put it on par with most North American fast-food, so nothing to write home about but it filled me up and let me sit in a warm room for half an hour or so.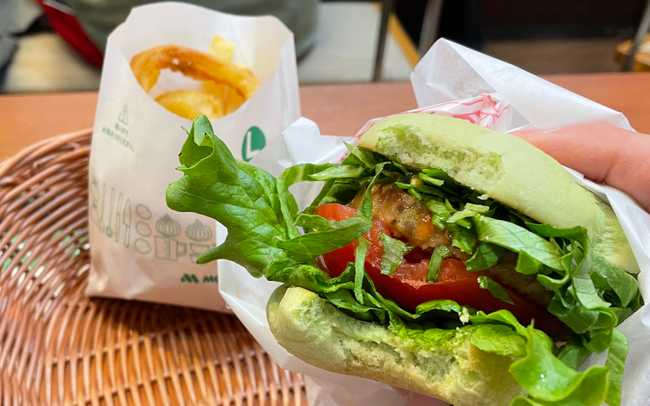 MOS Burger Green Burger
Since I was so cold I headed back to Tokyo Station and berated myself for not wearing my jacket in the first place. It cost me about $5.00 to open and close the locker again, but with how much colder it was than the day before I really needed my jacket. I was also starting to feel pretty worn out, which wasn't a good sign, as I needed to keep myself busy until I could board the Sunrise Express at 9:30pm. It was early afternoon at this point so I still had a long day ahead of me, whether I liked it or not.
I figured I might be able to give myself a boost if I headed to Shibuya Crossing and took in the hectic nature of the place - it was Saturday, so the crossing was sure to be super busy. Shibuya is always a fun neighborhood to wander around, so I figured I'd do that for a bit before making my way up to Yoyogi Park once I'd had enough of the dense crowds.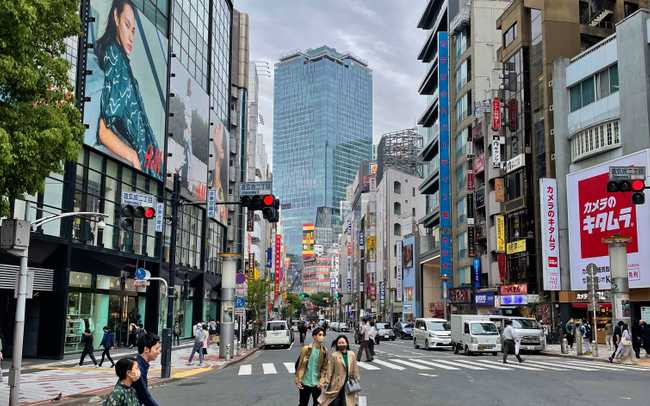 Shibuya
When I was wandering around Shibuya I was reacquainted with what I consider to be the scourge of the modern Japanese city: advertisement trucks. If you've never seen them, they're typically semi trucks with flashy billboards covering the bed of the truck. They drive around the block in circles, acting as a moving billboard. This doesn't sound bad on its own, but they also blare looping music or booming announcers that repeat every 5 to 10 seconds. They're quite probably one of the worst things ever invented. And they're all over the place around Shibuya Crossing.
I tired of aimlessly wandering near Shibuya Crossing after a while and needed to get away from the advertisement trucks, so I made my way up towards Yoyogi Park. When entering Yoyogi Park from the south there's a pedestrian bridge right before the entrance, and in this area I was surprised to see that Tokyo Rainbow Pride was on. I was curious about what a pride event in Asia was like, so I made my way through the various booths and picked up a rainbow bracelet. Turns out that pride in Asia is a lot like what I've seen in Victoria, including the ton of corporate sponsors. It seemed like everybody was having a good time and it was nice to see LGBTQ+ representation in a country where I didn't fully expect to see it - I had always been under the impression Japan is still pretty conservative in that area. The main slogan was "press on till Japan changes", so that suggestes to me that Japan is probably still a bit behind North America when it comes to LGTBQ+ rights, but I'm definitely not an expert in the subject matter.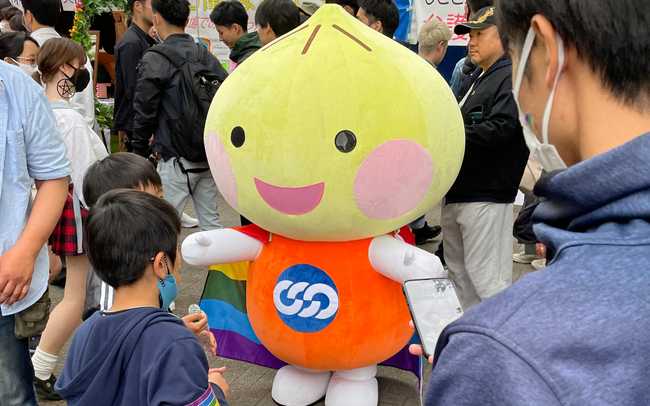 Tokyo Rainbow Pride: it's not a Japanese event unless there's a mascot
I made my way over the pedestrian bridge and although Yoyogi Park was packed with people having picnics on blankets, it was incredibly calm compared to the frenetic energy of Shibuya Crossing. I sat on the edge of a fountain and plugged my phone into my portable battery to let it charge a bit, as I had run down the battery by taking so many pictures and videos. It was nice to relax after being in so many incredibly busy areas.
And this is when the jet lag exhaustion really hit me: over the next hour or so my ability to mentally function seriously deteriorated. I was extremely tired and unable to process much. I made my way back towards Shibuya Crossing, hoping that if I stopped by a Kura and filled myself up with sushi that I could bounce back. Maybe slamming some green tea would help too? It was only 4pm, but I figured it was dinner time.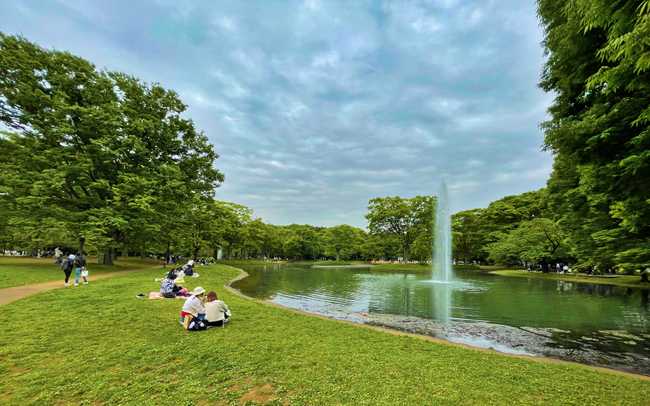 Yoyogi Park
Once I finally found the building and floor that Kura was on, which was more of a challenge than I care to admit, I was immediately struck by another obstacle. When you walk into a Kura or a Sushiro there is a ticketing machine. Seating is self served, so you should just choose how many people and then after a while another machine will call your number and tell you where to sit.
For the life of me I could not figure out the machine - I found out later there was an English option, but I completely missed it with how frazzled my brain was. A woman walked in behind me and I tried to speed myself up, but I just got flustered and tried to walk away. She didn't speak English, but she could tell that I wasn't having a good time with the machine. Even though I tried to tell her that she should go ahead and that I was going to leave, she got through the screens and gave me the ticket! I gave her a hearty "arigatou gozaimosu" and made my way to the next step, where I think I accidentally cancelled somebody else's seating call, as that machine confused me as well.
I was ready to cut my losses and bolt, but then my number was called and I was able to find my seat. Never had I thought that getting a seat in a restaurant could be so frustrating and confusing, but such was the state of my mind. Nothing was working right, but at least now I could stuff myself silly.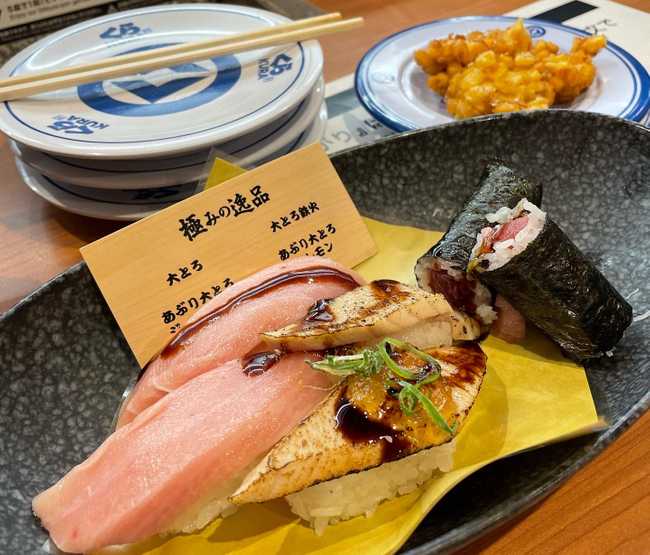 Hard earned sushi
And I did! The sushi and green tea were good and filled me right up. However, it didn't do anything to lift my heavy brain fog. Thankfully I was able to pay my bill without too much mental distress. With how much of a dead weight my brain was being, I figured I had best make my way back to Tokyo Station and find a way to kill time there while waiting for the Sunrise Express. By the time I got to Tokyo Station it was about 5PM - I still had four and a half hours to go.
I wandered Tokyo Station in a haze – there wasn't much to do in the station and I kept on getting lost in the maze-like nature of the place. A lot of it looks very samey and I wanted to make sure I did not lose the locker where I had stored all of my luggage. Even worse, I realized I did not know what platform the Sunrise Express was boarding from - when there are well over ten platforms in the station that can be a problem.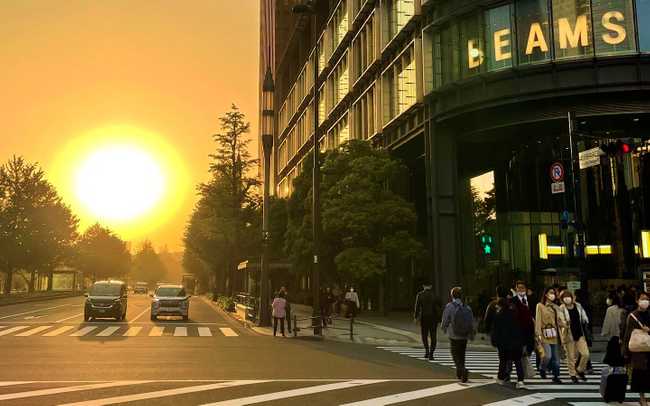 Mentally destroyed outside of Tokyo Station, but with a nice sunset
The Japan Official Travel App that I had been using to plan my routes told me that the train would be arriving on platform 4, but nothing in the station confirmed that. The electronic signs in the station typically don't let you know what platform a train is on until about an hour before arrival. In my frazzled state of mind I really wanted to know so that I could be sure I was ready when the train arrived, but that wasn't going to happen, so I was left to aimlessly wander the station or sit in one of the few waiting areas and mindlessly scroll on my phone until closer to. I still had several hours to go and was really regretting making the day as long as I had.
All of that regret dissipated once I entered my room on the Sunrise Express: I did it! I made it through the jet lag day from hell, and was going to be able to sleep on the train. The room was long enough for me to fully lay down and I didn't need to share the bed with my luggage, so I was very happy about that. The only downside is that I wasn't able to get a ticket for the shower - despite being fourth in line for the machine the tickets were sold out after the second person got theirs.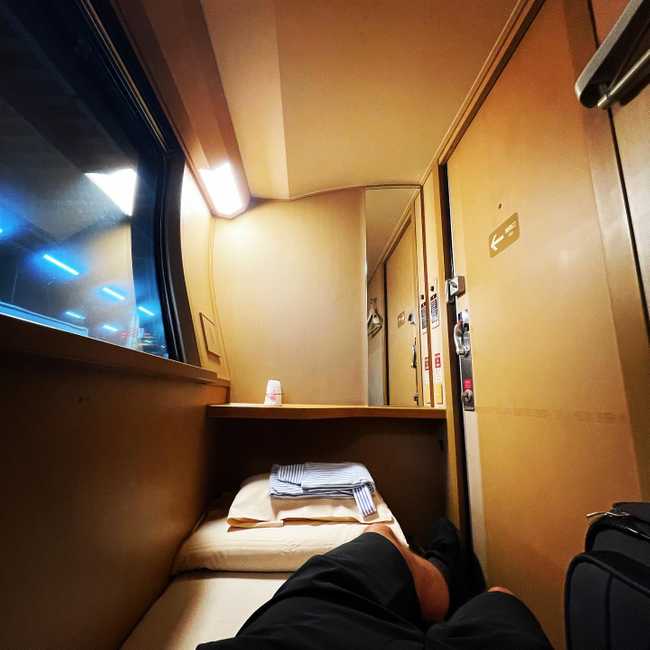 My room on the Sunrise Express
After watching the city lights slide past my window for a few minutes I figured it was time for bed. I switched into the provided pyjamas and settled in for a good night's sleep. And it was: it was my first truly good night's sleep since I arrived in Japan. The gentle rocking of the train kept me asleep until sunrise, which was a delight to watch from my bed. I woke up close to Kobe and watched the countryside pass as I ate a small breakfast that I brought with me.
Once I reached Okayama I got off the train. My plan was to hop on to a Shinkansen to Hiroshima from there. That would be a short ride, only about an hour or so, and would get me into Hiroshima around 8am. But what happened from there on is probably best suited for another entry.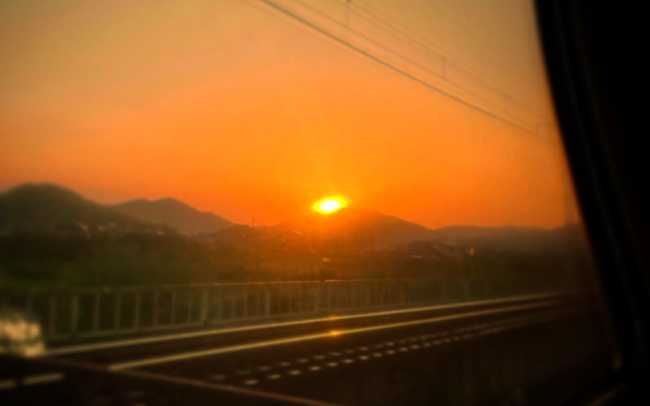 Sunrise, as seen from the Sunrise Express
---