Japan Train Journey - Arrival & Tokyo
May 08, 2023
I had a trip to Japan fully planned and booked in February 2020. I had already visited in 2017 but wanted to go back, as I had found a very good deal on a plane ticket. When I visited in 2017 I spent the first week traveling alone, something I had never done before. I found that the fantastic transit system combined with the safety of the country gave me a great sense of freedom, which I wanted to experience more of.
When you think about what was happening in February of 2020 I think it's obvious why I had to cancel that trip. COVID-19 was new to the world and I would have been arriving in Tokyo a week or so after the Diamond Princess was unloaded. After reading about how people disembarked and then immediately got on the crowded Tokyo subway, I figured I had best wait for the situation to blow over.
Three years later I decided to give it another shot. A lot had changed in my life over those three years: I changed jobs, me and my wife bought a house, and I had become a father. Originally I was going to wait until 2024, but the timing felt right in 2023 and if there is one thing 2020 taught me it is that you should take any opportunity you get, as you never know what is going to happen.
I booked two weeks off of work, bought a plane ticket and a Japan Rail Pass, and prepared myself to spend two weeks traveling around the country by myself. It was a great experience.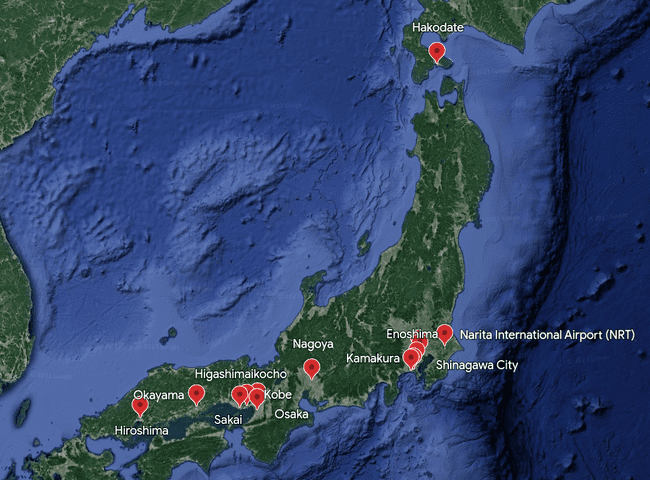 Most of the places I visited
Arrival - Tokyo
After a ten hour flight combined with close to an hour and a half to get through immigration, I was ready to get the hell out of Narita Airport; however, I had to pick up my Japan Rail Pass as I had purchased an exchange pass from a travel agency online.
I've read that the JR Travel Service Center in Narita is always busy. People want to get their passes so that they don't need to pay extra to take the Narita Express or the Keisei Skyliner. When I first arrived in 2017 I opted to take the Skyliner - I think the service center was closed when I arrived then. This time I figured since I had exactly 14 days in the country and a 14 day pass I may as well get my pass and take the Narita Express for no extra cost.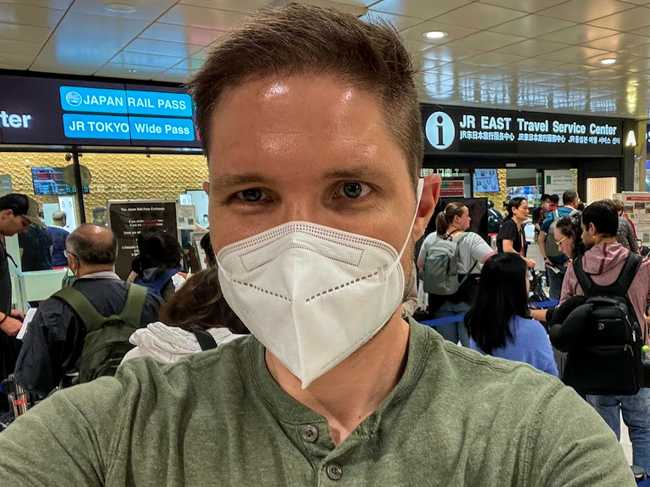 Exhausted and waiting in line for my Japan Rail Pass
After waiting in line for about 45 minutes, I had my Japan Rail Pass in hand and a reservation on the Narita Express, which would take me to Shinegawa Station. My hotel, the Smile Hotel Shinegawa Sengakuji Ekimae, would be about a 15 minute walk from there.
Riding the Narita Express into Tokyo was great. The sun was close to setting when the train set off so I got to watch the sky slowly turn a beautiful crimson as I watched the landscape change before my eyes. Narita is a good distance from Tokyo, so you get to see a number of smaller cities and the countryside as you head towards Tokyo. It's a charming welcome to the country. My 2020 trip would have had me landing in Haneda, which is in Tokyo, but I like Narita just for the extra journey that it adds.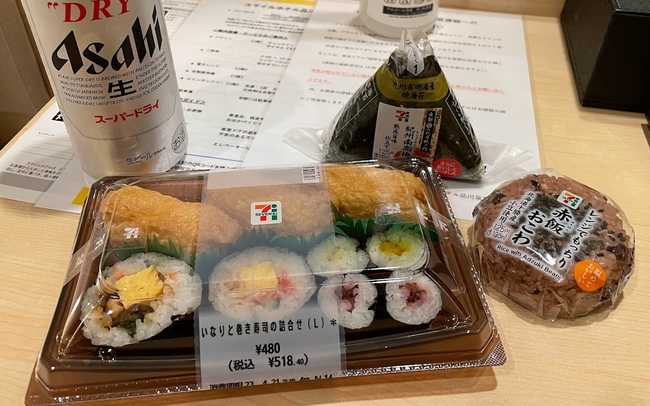 Hard-earned dinner of champions
I stopped by a 7-11 on my way to the hotel and grabbed a sushi tray, an onigiri, and a beer. Japanese 7-11s put the ones in North America to shame: they have fresh food, great prices, and are always clean and well-stocked. I was grateful to be able to pick up something on the way to the hotel, as vegetarian airline food is even worse than regular airline food.
I comfortably settled into my hotel and after a quick stroll around the neighborhood tucked in for a poor night's sleep - I take a couple of days to adjust to jet lag, but I don't let that get in the way of me getting out and exploring.
Day 1 - Tokyo/Enoshima/Kamakura/Yokohama
The upside of sleeping poorly while traveling by yourself is that you're in complete control of when your day begins. And that's how I found myself on the platform of Takanawa Gateway Station at 5:00am, ready to head to Enoshima.
Enoshima is an interesting little island south of Tokyo - it's surrounded by beaches and has a much more "chill" vibe to it than the bustling city of Tokyo. I saw that grow as I made my way towards Kamakura, but I'll get to that in a little bit.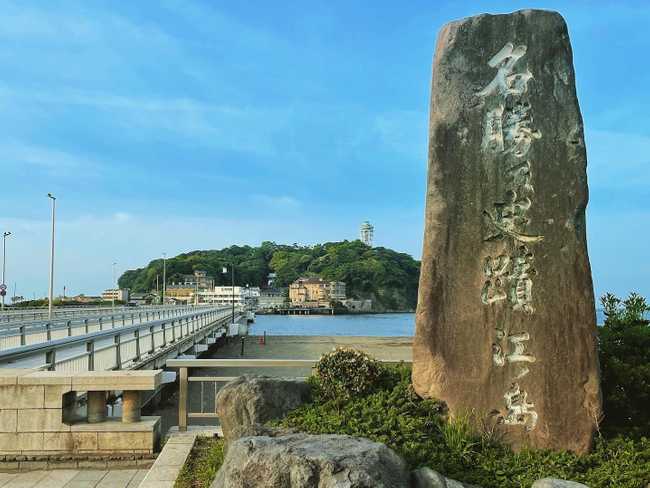 The bridge to Enoshima Island
I got to Enoshima Station around 6:20am and made my way past all of the closed up shops. Most stores in Japan that aren't convenience stores don't seem to open until at least 9am. This meant that Enoshima, which is typically a bustling tourist hot spot, would be almost deserted. I made my way across the long bridge that joins Enoshima to the mainland, occasionally stopping to observe the numerous signs warning about aggressive birds.
I saw a few other people out for morning walks and a few joggers, but for the most part the island was still asleep. At times I wondered if I should really be there, but then I'd see another person walking through the street and feel reassured that I wasn't trespassing.
Enoshima has a number of shrines and houses on narrow streets that are only accessible on foot. I saw groups of workers loading garbage bags into carts and then launching them down the stairs that occasionally popped up in the middle of the street. It's not often that you see trash collection happening without a garbage truck! The cool breeze off of the sea kept me from getting too sweaty as I climbed up and down the steep hills of the island.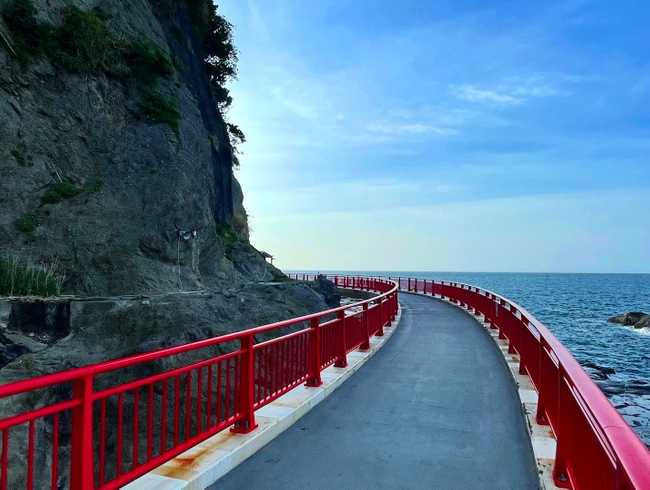 The far side of Enoshima Island
Since I was there so early I wasn't able to visit the Sea Candle or the caves, but I didn't have too much interest in paying to do the touristy things. I just wanted to explore the island. Once I got to the end of the walkway on the far side, I could see a number of people were fishing off of the rocks. There were several signs up asking not to do this, but they were locals, so I presumed they knew what they were doing.
I made the trek back over the island and crossed the bridge off the island, keeping an eye out for the aggressive birds that I had been warned about. I walked to the right in the general direction with Kamakura, thinking that I would either rent a bicycle or find another way to get there.
I stopped on the beach and watched a group of surfers catch a few waves as people walked their dogs past me. It was a gorgeous morning to be on the beach, and the thought of renting a board crossed my mind - but then the times that I had whacked myself in the head with a board crossed my mind as well, and I figured it wasn't a great idea to surf by myself on a solo trip.
I walked a bit further up the beach and realized that the Enoshima Electric Railway could take me to Kamakura Station. It wasn't covered by my Japan Rail Pass, but I had filled up a Suica card when I was at Shinegawa Station that morning. It was a charming ride by the sea, the car half full of students on their way to school.
Once I arrived at Kamakura Station I decided to take a gamble and bought some waffles from a vending machine. Big mistake. They tasted terrible - they were far too sugary. They were also cold. Do not recommend.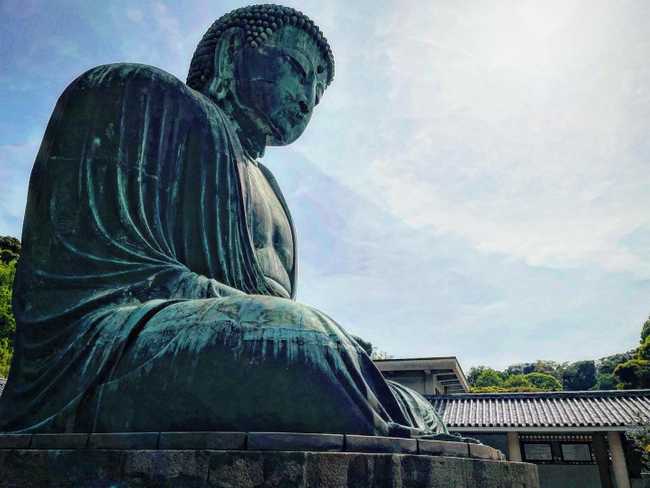 The Giant Buddha of Kamakura
From there I walked up the 311 in the direction of Kotoku-in and Hase-dera. The chill surfer vibes I felt on the beach off of Enoshima continued to persist - Kamakura is a fun little surfer's paradise dotted with Buddhist temples. My first stop was at Kotoku-in, the giant buddha. It was a bit of a letdown - it didn't feel like it was worth the admission, since the Giant Buddha was all that there was to see. I stopped and used the washroom just so I felt like my admission fee was worth a bit more. Hase-dera was well worth the admission fee though.
Hasa-dera had many temple buildings including several charming gardens. It also had a neat cave that was well preserved with various statues and carvings. I had to squat for most of the cave as it had a very low ceiling, but I enjoyed my trek through it. A photographer stopped me in the garden and we talked a bit about where I was from and what my plans were in Japan.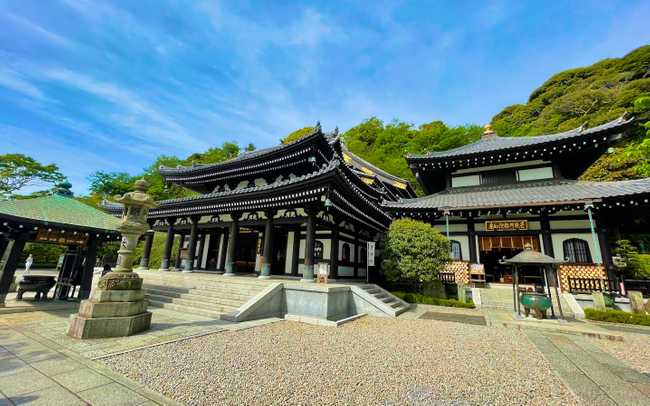 Hasa-dera Temple
It was getting close to lunch, so I figured it would be a good time to make my way to Yokohama and check out the Cup Noodles Museum. I figured I had to visit since I never thought there would be a museum dedicated to instant noodles. I made my way back to Kamakura Station and hopped on a train headed north.
Yokohama is very impressive when you first walk out of the station: a large bay is dotted with tall skyscrapers and there is a gigantic ferris wheel surrounded by a theme park in the middle of it all. I enjoyed wandering next to the bay, taking in as much of the breeze as I could, as I made my way towards the Cup Noodles Museum.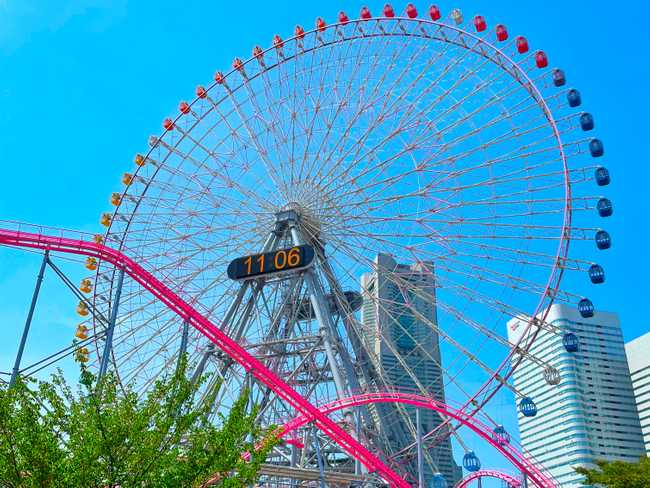 Yokohama
Once I got to the museum I realized that there were several options for visiting: you could just get a ticket, or you could add on to make your own cup noodle design, or you could also grab some "world noodles" in their food court. I hadn't had sushi yet and I was craving it, so I elected to just see the museum.
It was interesting, but I think I probably hyped myself up more for than it could have delivered. It also became painfully obvious that a lot of it was targeted at children, which makes sense. Most of the patrons were either children on a school trip or tourists such as myself. An interesting mix, to say the least.
I liked seeing all of the different kinds of cup noodles that had been produced over the years and don't feel like I missed much by not making my own Cup Noodle design, since that was really targeted at children. There were a few interesting art features, so all in all I didn't feel like it was a waste of money, but it didn't blow my mind either.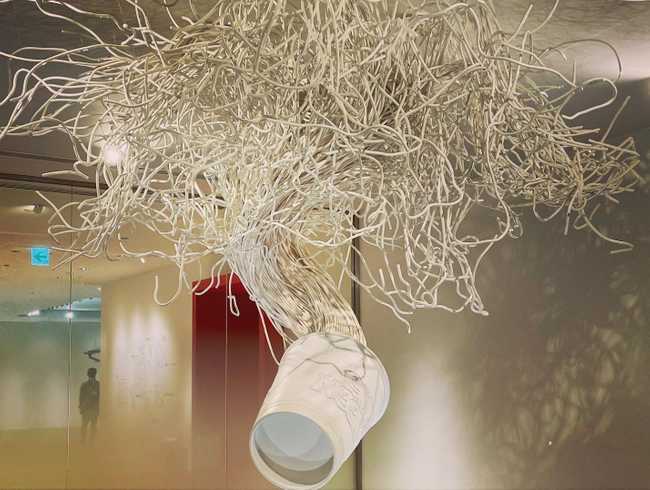 Sculpture in Cup Noodle Museum
Once I was done in the Cup Noodle Museum I walked over to Magurodonya Miuramisakiko in the Yokohama World Porters building. It was good - it was my first taste of fish in close to ten years and I savored it. However, when I was being seated I also realized that all of the Japanese I had practiced wasn't as good as I had hoped - anything I tried to say came out garbled and I couldn't really understand what the waitress was saying to me.
It was just a little past noon and I had already blown through what I had planned to do for the day, so I figured I'd hop a train into Shinjuku and wander around Kabukicho before it got too late. I had played a lot of the Yakuza games over the last few years, so I thought it'd be fun to compare the neighborhood to the games. While I was on my way there I stopped at Tokyo Station and got my Sunrise Express ticket. That was a bit of an ordeal - I was shuffled from three different ticket offices before I finally found the right place to pick it up. It was a little confusing for people as I had booked the ticket online as soon as I was able to, but was intending to use the Japan Rail Pass, as I had only paid for a single room. The Nobi-Nobi capsules are free on the train, but I wanted some privacy. Being done with that, I hopped on a train and headed towards Shinjuku Station.
The area around Shinjuku Station was busy as always, and after an hour or so of roaming around I thought I'd try and find a bar to grab a drink at, but most were still closed at that time of day. I grabbed a drink from a convenience store and had it in Okubo Park, but right after I cracked it I realized that most of the other people hanging around in the park were the type of people I probably shouldn't associate with - which is probably true of any popular public drinking spot at 3PM on a weekday.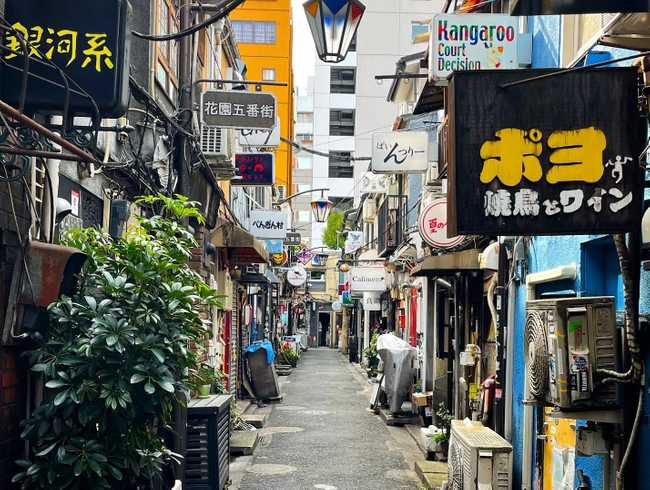 Shinjuku's Golden Gai is quiet in the mid-afternoon
After looking around on Google Maps for a bit I made my way to a place called Beer Bomb - they specialized in craft beers, which a growing number of small bars in Japan seem to specialize in. They're not cheap, but they're pretty good. I had a drink there and figured it was time to figure out something for dinner. I opened up HappyCow and figured I'd try out the Vegan Bistro Jangara near Harajuku.
I made my way to Harajuku via the train and once I got to Vegan Bistro Jangara I realized I had eaten there back in 2017! I remembered that it was good, so I figured I'd give it a shot again.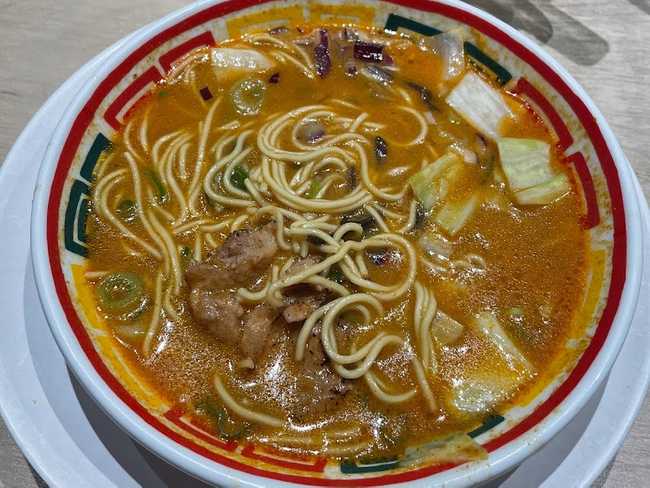 Not the best picture, but it tasted good
The gyoza and ramen were delicious. At this point it was getting close to 7PM, and I had been on the go since 5AM, so I figured it was probably time to make my way back to the Smile Hotel. I got back to my room and settled in for a sleep, hoping I'd have a better one than the night before. That wish wasn't granted, and it made the next day a long one: I would need to kill a lot of time until I could board the Sunrise Express at 9:30PM.
---