From Victoria to Portland by sea and train - Part 2
February 14, 2020
After a poor night's sleep, mostly thanks to the noisy air conditioning unit in our hotel room, we walked to King Street Station in order to catch the 9:45AM Coastal Starlight train down to Portland. We made our way down 3rd Ave, a busy corridor for buses that was busy with people making their morning commute. Everybody that shuffled along the sidewalk avoided the numerous puddles of human urine like it was second nature.
While we had dreams of finding a quirky place to get breakfast we ended up in a Starbucks, because why not? Our stops in Seattle so far had been the most basic tourist things you can do, so we decided to pay tribute to the global megachain in its hometown.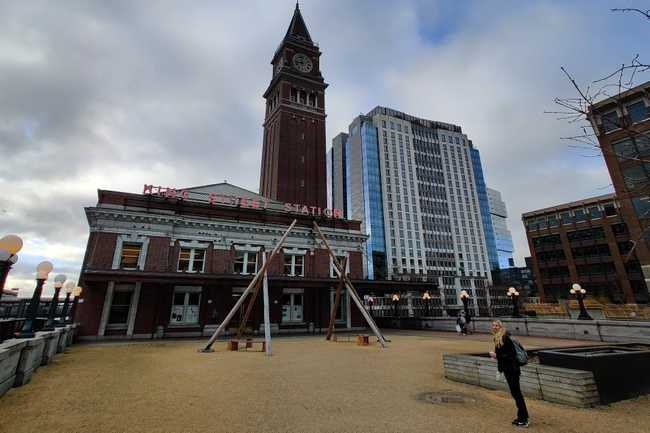 King Street Station
King Street Station was about a 30 minute walk from the Belltown Inn and it was a nice sunny morning so it made for a pleasant walk. The station itself has a 100+ year history and is pretty cool architecturally. This is good, as we ended up spending far more time here than expected.
At about 9:45AM, right when we were lined up to board, there was an annoucement that there were mechanical difficulties with the train and that they were uncertain when we'd end up departing.
Big yikes. At this point the charm of the station had started to wear off.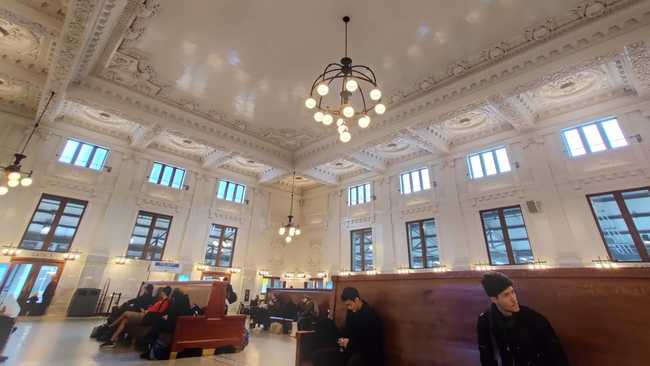 Inside King Street Station
Katie immediately jumped on the station's wifi and started to look up alternatives, in case worse came to worse. The most obvious options seemed to be either the Bolt Bus or seeing if we could catch a flight from SeaTac.
After about an hour of waiting the staff announced that anybody that wasn't in business class or in a sleeper car weren't going to get on the train unless they were going past Portland.
That included us, of course - not a great start to the trip.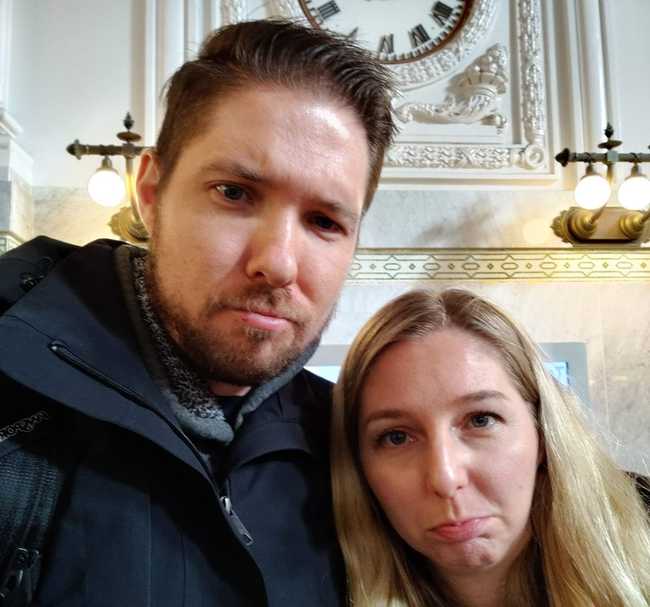 We were really looking forward to the train
Thankfully Amtrak had arranged for a couple of busses to take us unwashed coach class folk to our final destinations. I had mixed feelings about this - while it was great that we were going to be able to get to Portland close to when we had planned, we were going to miss out on the coastal train ride that we'd both been looking forward to. On the bright side, I'll gladly a take any method of transportation over no transportation - especially considering I'd already paid for the hotel in Portland and it was non-refundable.
The trip on the bus was about as unremarkable as you'd expect a straight-shot drive down the I5 to be. The roadside was littered with countless chain restaurants, chain hotels, RV dealerships, and the occasional mega casino. If this section of road was my only exposure to the Pacific Northwest then I wouldn't understand why anybody chooses to live here.
Once we got closer to Portland we got to sit in traffic like everybody else, which is one of my least favourite parts about driving. At least I wasn't behind the wheel. We managed to get into Union Station shortly after 3PM - an hour and a bit later than we had originally planned.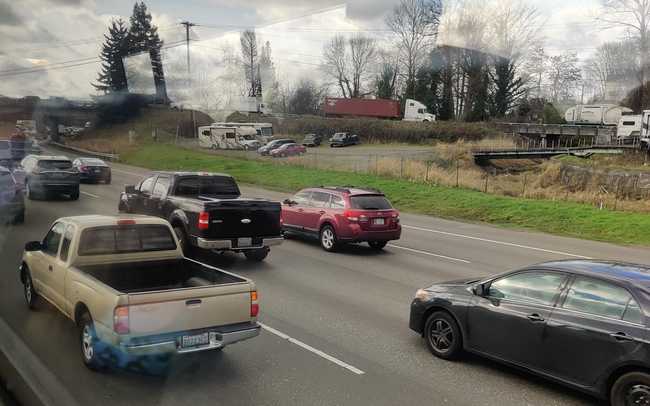 The I5 is not what I would call riveting
It was lightly raining in Portland when we arrived and we made our way up 5th ave towards where we'd be staying, Courtyard by Marriott. Neighbourhoods around bus and train stations are typically a little run down, and this area of downtown is not an exception.
Downtown Portland is well known for having a poverty and drug problem and it is very visible in the Pearl District. While there are a fair number of storefronts for community outreach it feels like these efforts aren't reaching some of the most vulnerable. A sizable number of people stagger along the sidewalks mumbling to themselves and occasionally swinging at things that aren't there. Like every other American city I've visited in the last few years, Portland is aware that these people need assistance and is attempting to provide it - but whether these efforts are making an impact is debatable.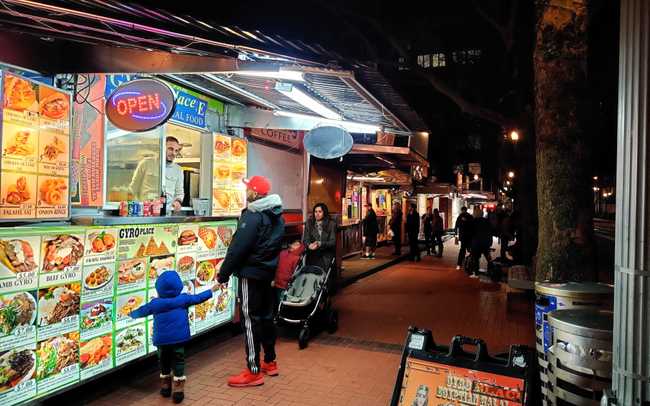 The 5th avenue food cart pod at night
Once we checked in to our hotel we decided to check out the 5th avenue food carts, as the only food on the bus were tiny snack bags. It was a block away from our hotel so walking there was easy. It's a collection of about a dozen food carts that offer a wide variety of cuisines including Mexican, Korean, Greek, and Egyptian. I opted for a chile relleno burrito from La Jarochita and it did not disappoint. Katie was happy with her veggie tacos as well. It reminded me of what I love about food carts - they allow passionate chefs to make great food with minimal overhead and don't require the pretension of having to 'theme' a restaurant.
From there we decided to head to Powell's Books. I had read online that Portlanders love to read - the size of the store and the number of people inside of Powell's Books reinforces this idea.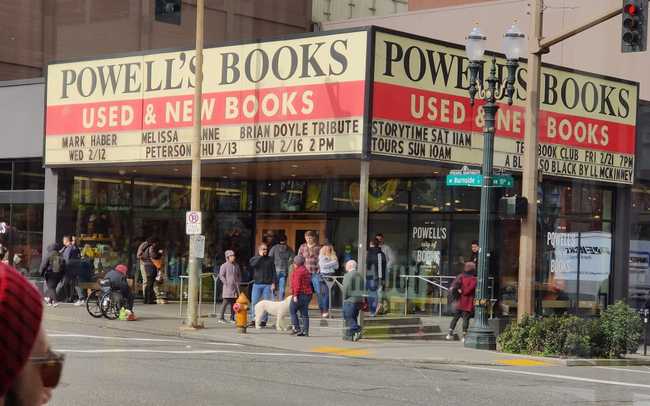 Powell's Books
No matter how obscure your interest is you can probably find a book about inside of Powell's. Even if you're not looking for anything in particular it's easy to get lost in. I picked up a new book about vegan pressure cooking and if I wasn't travelling out of a backpack I probably would have picked up a few more.
There's an area on the top floor for rare books that requires a pass to enter, as the number of people allowed inside at the same time is limited. Katie and I grabbed a pass and spent about 20 minutes looking at the rare and expensive books and collections. The prices ranged from $600 to $12,000 USD. If the book wasn't too expensive you were allowed to handle it, so needless to say our greasy fingers didn't get to touch any of the really expensive books.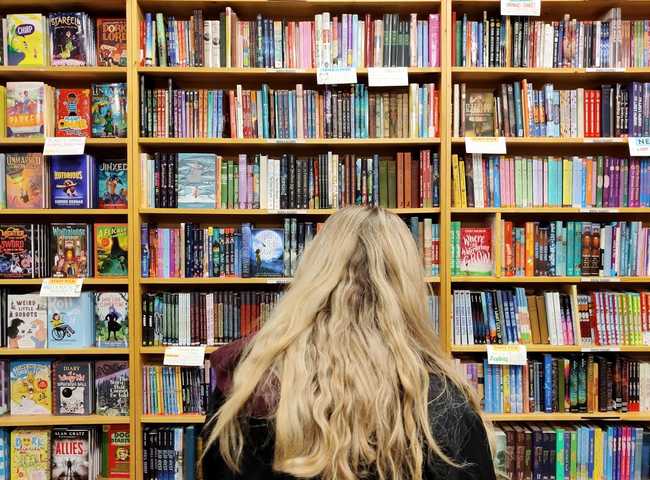 Inside Powell's
After we felt that we had spent enough time in Powell's (which was about an hour and a half) we went back to the room to scheme where we should go for dinner. I had my eyes on Marukin Ramen which is located in Pine Street Market. Katie was an easy sell so we took the 10 minute stroll there.
Pine Street Market was really busy when we walked in. I'd describe it as Portland's take on a food court. Typically food courts suck. They're full of mediocre chain restaurants and are so generic that they're entirely devoid of charm. Pine Street Market is not like this - it's bustling with a variety of vendors that are Portland originals. Most people eat at long communal benches rather than at their own small tables. Everything looks and smells delicious.
I went for the spicy vegan ramen while Katie went for the non-spicy variant. As far as vegan ramen goes it was pretty good, but I may have set my expectations a little too high. It was good, but not as good as Bao in Victoria. I might return to Pine Street Market to try out Kim Jong Smokehouse though - their bibimbap bowls looked fantastic.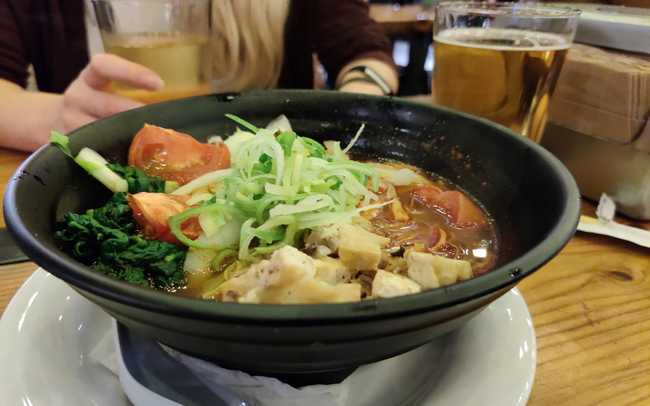 Ramen from Marukin Ramen
After we finished our meal we picked up dessert from the Wizbangbar by Salt & Straw. They had a few vegan selections for soft serve so it seemed like a good way to close out our night. I had the roasted strawberry coconut soft serve dipped in chocolate while Katie tried out what they called the vegan banana split. Mine was pretty typical soft serve - Katie's 'banana' ended up being type of candied gel that had the consistency of snot. Unless you're really craving ice cream I'd say to skip this booth.
With our stomachs as full as they were we figured we'd head back to the hotel. We took a different direction back so we could ogle the lineup outside of Voodoo Donuts. We might end up there, but I've heard from more than one person that the wait isn't worth it and there are better places to grab a donut in Portland.
---