From Victoria to Portland by sea and train - Part 1
February 13, 2020
I decided not to get Katie anything physical for Christmas this year and instead opted to give her a fully planned trip to Portland. Neither of us have been and we've both wanted to go for a while, so it seemed like a good opportunity to finally do so. I don't care much for driving so the idea of taking the Coho Ferry to Port Angeles and then driving all the way to Portland didn't appeal to me. Neither did the idea of taking BC Ferries to Vancouver and then taking the Amtrak from there as the trips were pretty long and started at inconvenient hours.
I've taken the Clipper ferry several times in the past and always enjoyed it - it's a relaxing way to get into the heart of downtown Seattle without too much hassle. The fact that you can enjoy a beer while on the boat is a bonus. Sure you can do that with the Coho, and even BC Ferries has started to serve beer lately as well, but I don't want to mix that with having to drive.
After a bit of rooting around online I found a route that would get us to Portland and back over a four day period. If we were to take the Clipper to Seattle and overnight there then we could take the Amtrak to Portland the next morning, leaving us with two days in Portland before having to head back up to Victoria. A nice little bonus is that there are two different Amtrak routes to and from Portland, so we wouldn't need to repeat the same train trip.
We opted to take the trip on the weekend of February the 14th, even though I've never heard anybody ever claim that Portland is for lovers.
02/13/20 - Victoria to Seattle
It had been a bit of an ugly morning in Victoria with grey skies and light rain showers throughout the morning. That had pretty been much the norm for this winter - almost every day seemed to have at least a bit of rain so sunshine was rare. Thankfully by the time the afternoon rolled around the sun had started to shine and gave us hopes that the rainy forecasts weren't going to hold any water.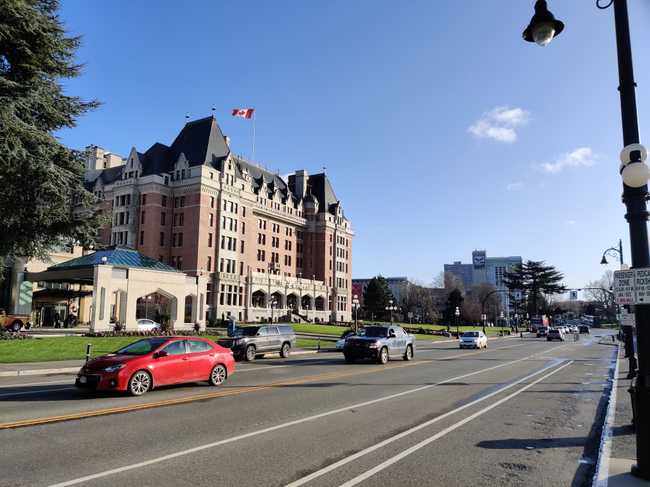 The Empress basking in the sun
The Clipper leaves Victoria at 5PM, so we both left work early and got to the terminal around 3:30PM so that we could get through customs and get a decent seat on the boat. This turned out to pretty much be a non-issue as the boat was nearly empty. Customs went quickly and we had a window seat, so we were ready to go.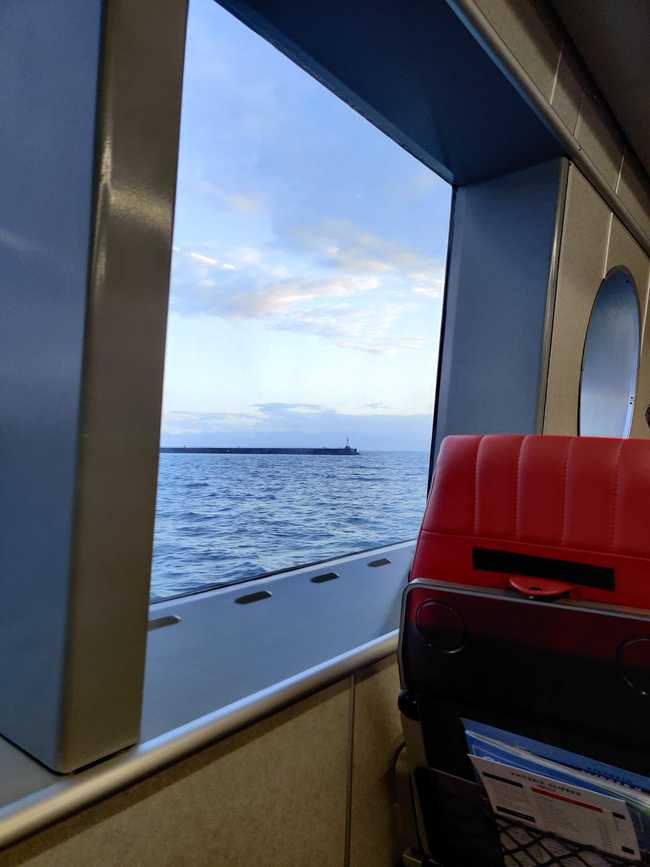 Waving goodbye to the Victoria Breakwater
The Clipper's dining options leave a bit to be desired, especially if you're a vegetarian or vegan. To get around this Katie picked up some sushi from Umi Sushi in the Bay Centre's food court. I don't need to say much more about this here, as most people know what to expect from Canadian food court sushi. It sure as hell beat the options on the boat though: the only vegetarian option was a tray involving hummus and vegetables. I've had it before and I'd describe it as 'airline quality'.
Around Victoria the Clipper is infamous for how it can make people seasick when the sea is wavy. Thankfully this was not the case on our trip. One thing to note for those hoping to 'see the sights' during a Clipper ride is that during the winter months you'll be cruising in the dark for the majority of the ride.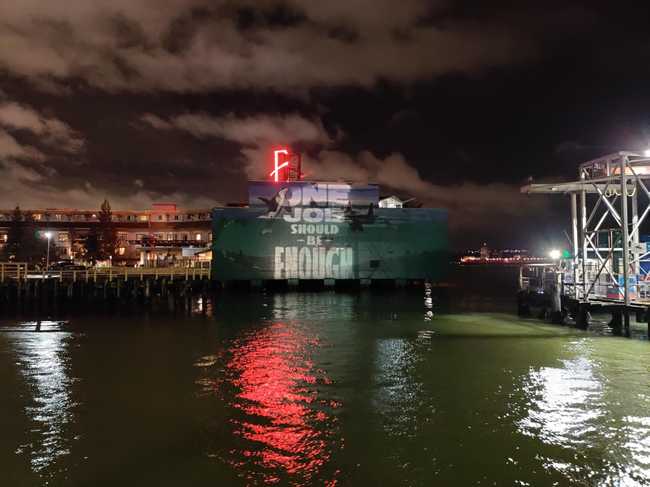 Seattle is well known for being passionate about labour rights
Once we had arrived in Seattle we made our way to where we were staying for the evening, the Belltown Inn. It's a well priced hotel that doesn't provide many frills - exactly what I wanted out of a hotel for a quick stopover. While I was impressed with the hotel at first, the heater in our room had an irritating rattle that woke us up several times. However, the location is great as it's walking distance from the Clipper terminal, Pike Place Market, and King Street Station - so you don't need to hail an Uber or taxi if you don't want to.
Since we checked in on a Thursday evening downtown Seattle seemed relatively sleepy. We decided to take a walk towards Pike Place Market and The Seattle Great Wheel since we knew that the wheel would be open until 10PM. Since we were on vacation we figured that the $15 USD per person fee for the wheel might be worth it, especially given that we didn't plan to do anything else that evening. It gives some nice views of the city and I managed to get a few halfway decent pictures from the ride, but I feel like it was overpriced for what it is.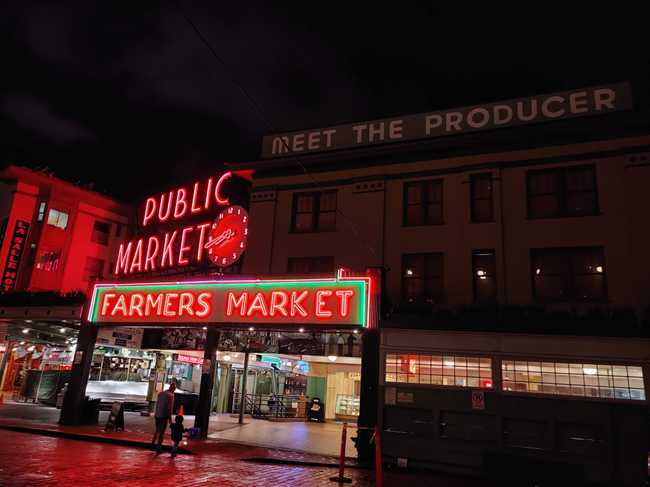 Every Seattle tourist ends up at the Pike Place Market sooner or later
In classic 'exit through the gift shop' style after the ride is over you're forced to wander through an area where they try to sell you photos of your ride. With how prevalent smartphones are nowadays I don't understand why people buy these, but then again I'm also the idiot that just spent close to $50 CAD to ride a ferris wheel, so maybe I shouldn't talk.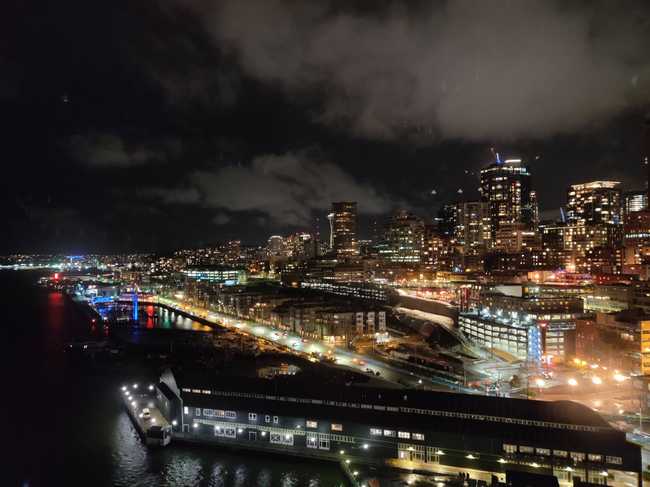 An overpriced view
After the photo sales area you wander through Miner's Landing, which was a ghost town when we walked through it. It's full of amusement park rides, creepy life-sized wood statues, and gimmicky tourist attractions. Apparently this area is popular with the cruise ship crowd when they pull into Seattle and it further reinforced my disinterest in ever going on a cruise. The entire place felt like a tacky money pit entirely bereft of any authentic charm.
Miner's Landing is a short walk from the Gum Wall, which sits next to Pike Place Market. I'm not sure what to say about the Gum Wall. It's an alley where the walls are completely covered in gum - some of which is arranged to make gum based art. The alleyway has a sickly sweet scent thanks to the amount of gum stuck to the walls, which is a little nauseating when you think of where it comes from. It's an interesting place just because it's so damn weird, so it's worth it to go just so you can see it for yourself but we didn't stick around for too long.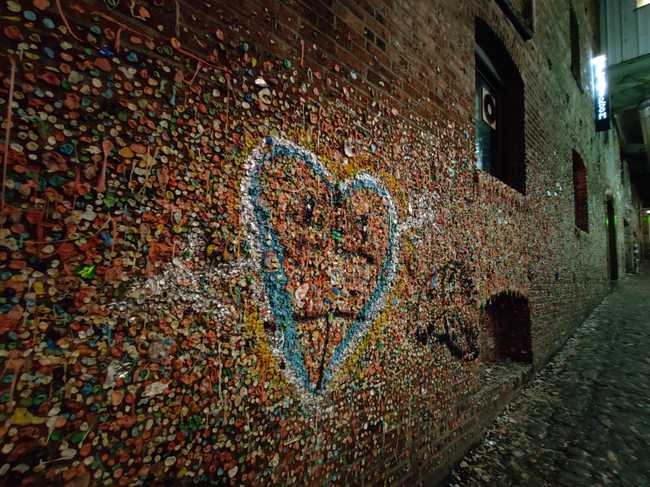 Eww 💓
As we emerged from the gum filled alley it became obvious that the Pike Place Market area was becoming overrun by drunken bros in blazers and tech vests so we decided to wander back to the hotel and call it a night. We had to get to the station for a 9:45AM train the next morning so a good night's sleep would do us well.
---