From Victoria to Portland by sea and train - Part 3
February 15, 2020
When we woke up the skies were gray and a steady rain was blanketing the streets of Portland. We had expected some rain on Saturday but definitely not as much as falling. Thankfully we had packed our rain gear and were ready to deal with less than optimal weather.
We noticed the Kingsland Kitchen when we were walking to the Pine Street Market the evening before, so we put on our rain jackets and walked a few blocks in the rain. Being Saturday morning in Portland, which is prime brunch time, it was very busy and we had to wait for close to half an hour. I used this time to connect to wifi from a nearby coffee shop and looked up what to do on a rainy day in Portland.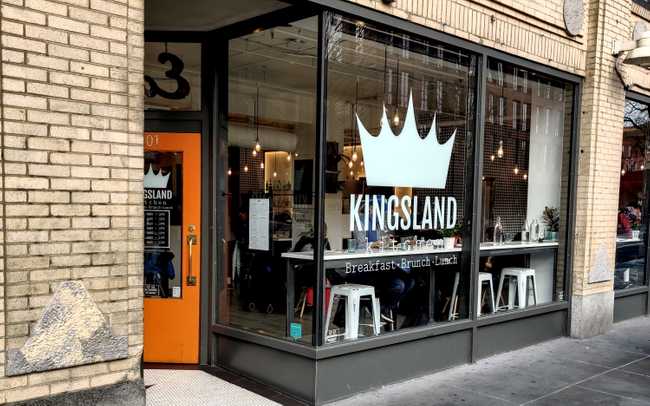 There were several full-length articles about what to do when the weather is wet in Portland, a prime example of how much rain the Pacific Northwest sees. I had already wanted to do some of the ideas in the articles, such as heading to the Portland Art Museum. There were a bunch of other good ideas as well, including going to one of Portland's boutique movie theatres, a luxury spa, and hitting up one of the arcades in town.
After a brief discussion we decided that we would brave the rain and walk to the art museum after breakfast.
The host informed us that if we wanted to be seated sooner rather than later we could sit with another couple at a four person table. This sounded fine to us, so we went for it. I ordered a vegetarian's farmer's breakfast and Katie was interested in the pork naan rolls. We each ordered a coffee - Katie's came quickly, but I was not so lucky and had to remind the server about fifteen minutes later. Normally I wouldn't mention something like this, but it was the beginning of a trend that ended up turning incredibly awkward.
The food took a while to arrive, which wasn't a problem as we expected a lazy Saturday brunch. When ordering Katie was torn between the huevos rancheros and the pork naan roles and it took about an hour for our food to arrive and somebody other than our server brought it out, so she started to eat the huevos rancheros that were placed in front of her since we were deep in conversation and hadn't given much thought to what we had ordered. A few minutes later her pork naan rolls were placed in front of the other guy at our table, and he was visibly confused as that wasn't what he had ordered.
Oh no.
Katie felt absolutely terrible for eating another person's order. Thankfully the guy was cool with it, but we ended up paying for his meal as a result since it was really awkward. We never really saw our server the entire time so we couldn't even tell her what had happened. The food was great, but the service was really, really bad.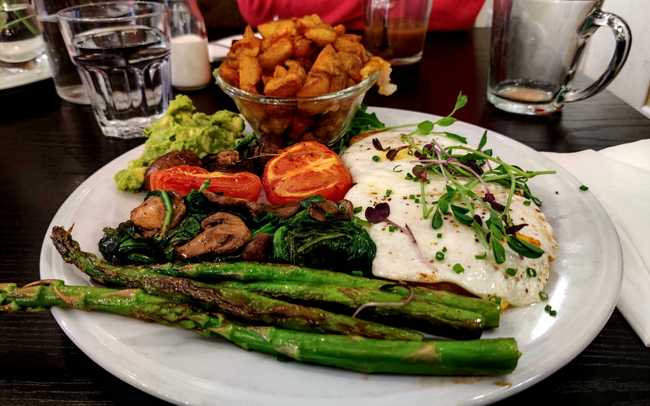 Great breakfast, bad service: the vegetarian farmer's breakfast
From there we made our way south on a 20 minute walk to the Portland Art Museum. It was raining so we made a stop in Muji on the way and I grabbed a pair of smartphone friendly gloves since they were half off and I figured they would come in handy for my trip to Japan next weekend. This was before the COVID-19 outbreak seemed to be spreading domestically there, so I was still planning on going.
The art museum had debuted a new exhibit that day about art inspired by the eruption of Mount St. Helens. The exhibit was well done and had a variety of striking paintings and photos related to the disaster. Oddly enough one of the most memorable things about the museum to me was the floor in the main exhibit area: it's one of the creakiest hardwood floors I've ever heard and feels out of place in a place I'd normally associate with quiet contemplation. You can hear every step from every person in the room makes and it's strangely comical when you first hear it.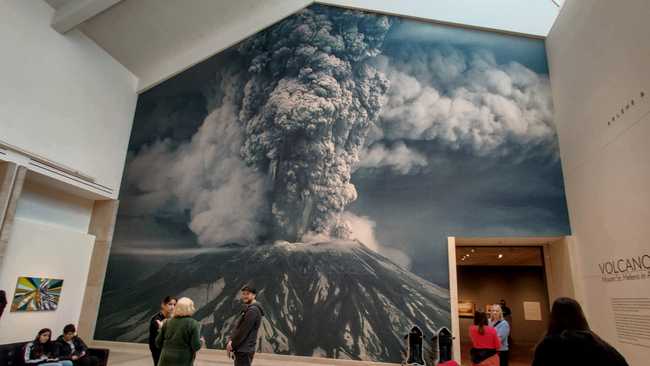 Mt St Helens erupting
The museum has a wide variety of exhibits including historical Asian and European art, worldwide contemporary art, and a wide collection of modern art. The modern art ranges from interesting to what you'd expect from a cultural hub like Portland - high concept work that can be difficult to 'get'. I certainly failed to understand a few exhibits including several series of coloured flourescent lights placed in a seemingly random fashion. Then again, maybe they weren't exhibits and were incomplete setups. Such is art.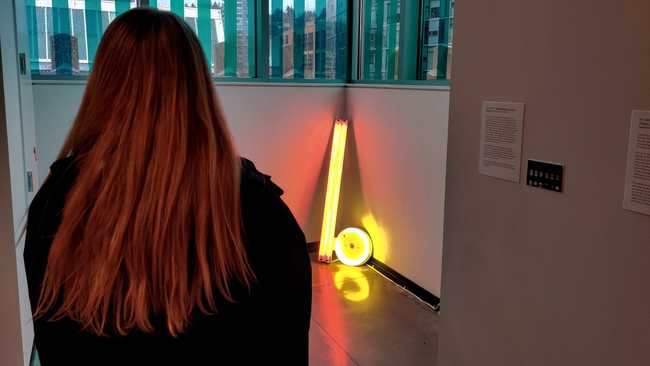 Exhibit or renovation remnants?
We spent close to two hours inside of the museum and it felt like time well spent. By the time we made our way outside the rain had let up, so that was a nice perk. We hadn't tried a Portland donut yet so I looked at nearby shops on my phone.
Sesame Donuts was the closest to the museum and had a 4.7 star review average on Google Maps, so it seemed like a good place to try; however, it was underwhelming in the end and we didn't feel that our donuts were much better than what you can get from a run of the mill Tim Horton's - and I don't hold Tim Horton's in very high regard. It was also deserted in there and half of the furniture looked like it was packed up. I have my suspicions about the reviews being gamed.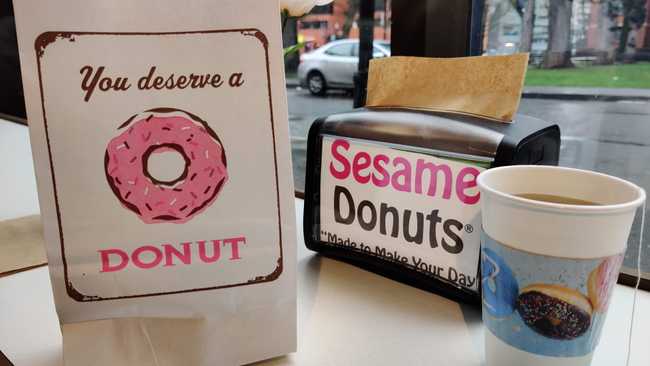 Donut not pictured
Before the trip I had compiled a list of different places to see and restaurants to try. One restaurant that I had read about and was eager to try was Ichiza Kitchen, which was located on the other side of the highway. We figured that since the rain had let up we could wander over in that direction and go for a pre-dinner walk in the neighbourhood or grab a drink at a nearby pub in case it started to rain again.
Katie had done a fair amount of research into Ichiza Kitchen had become excited about the idea of going there as well. I hadn't looked into there much more than seeing what kind of food they served and read a few reviews. She checked their website and saw that it claimed that they didn't take reservations and that seating was first come first served. Hours showed that they were open that night, so we figured we were good to go. We got to the neighbourhood earlier than expected and we weren't quite hungry yet so we figured we'd walk up to Washington Park and maybe head to the Japanese Garden if we felt energetic enough.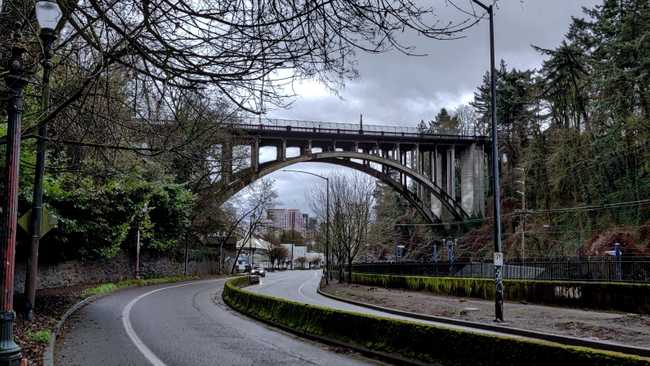 The walk back from Washington Park
The walk up to Washington Park is definitely a bit of a climb, but it was nice to get out of the city for an hour or so. The walk up the hill is through a quaint residential neighbourhood that reminded me of Vancouver, BC - granted this could have been because the day was wet and grey. Nonetheless it was nice to be outside amongst the trees and away from the bustle of downtown for a while.
Once we'd summited the hill to Washington Park we figured that the Japanese Garden probably wasn't in season, so we walked back down to the hill and figured we'd grab a drink from the Leaky Roof Pub, which was just a block away from Ichiza Kitchen. The Leaky Roof was a cozy little place and it was nice to be off of our feet for a little while.
Inside the cozy Leaky Roof
Once we'd finished our drinks we headed towards Ichiza Kitchen again - only to notice that there was a small paper sign taped to the gate: for Valentine's weekend they were only seating those who had reservations. This wasn't mentioned anywhere on their website, and was at odds with the claim on the site that they didn't take reservations at all. The sign said they might have room for lunch the next day and included a phone number.
We tried to call to see if we could get in for lunch tomorrow but the rang for a few seconds before being disconnected - making me wonder if I was being hung up on. Since the gate was closed and the open sign wasn't on I didn't feel comfortable barging through the gate and trying to ask anybody in the restaurant. It seemed obvious they didn't want people waltzing in to ask questions.
Katie sent them a message on Facebook expressing her disappointment and pointing out how what their website said was at odds with the reality of the situation. It wasn't an angry message or anything like that, just saying what we had observed, got our hopes up, and how they were actually operating was at odds with how they were presenting themselves online, which lead to disappointment for us. After sending the message she accidentally included a 'like' thumbs up, which Facebook doesn't let you undo.
The restaurant only responded by giving a 'thumbs down' emoji response to her message, which struck me as a little immature and condescending, but maybe they were agreeing with us - communication via emoji can be difficult at the best of times. If they were being condescending then it's extra disappointing that we didn't get in - normally places that act aggressively towards their customers only do so because the food is so good!
With our Ichiza dreams being extinguished by the commercial folly that is Valentine's Day, we decided to try to see if we could get into Departure - a rooftop restaurant with a spaceship theme. Despite a questionable gimmick the reviews were mostly good; however, it also seemed to be quite popular so getting a seat in there wasn't a surefire bet.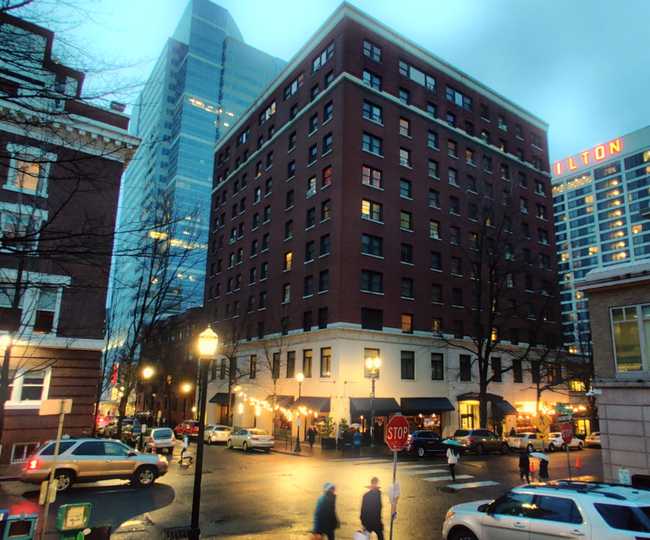 Downtown Portland at dusk
Departure excels at delivering the spaceship gimmick. Once you walk off of the elevator it's like you're in a scene from Star Trek or the Alien series. It was also very busy, so I was thinking that we weren't going to get a seat - the host didn't give us much hope but told us that if we could find a seat at the bar then we could sit there. Thankfully we managed to find a server that helped us drag a stool next to one of the only empty captain's chairs around the bar.
While the atmosphere and service was great the food left something to be desired. We got the appetizers of pickled brussel sprouts, daikon, and cucumber along with a bowl of edamame. Katie ordered their vegatable sushi and I went for a noodle bowl. The spicy picked brussel spouts were the standout of the bunch. Everything else was incredibly salty and gave me a Moxie's/Earl's vibe: competent but not much creativity happening with the flavours. If I was to describe the food with two words it'd be salty and unremarkable.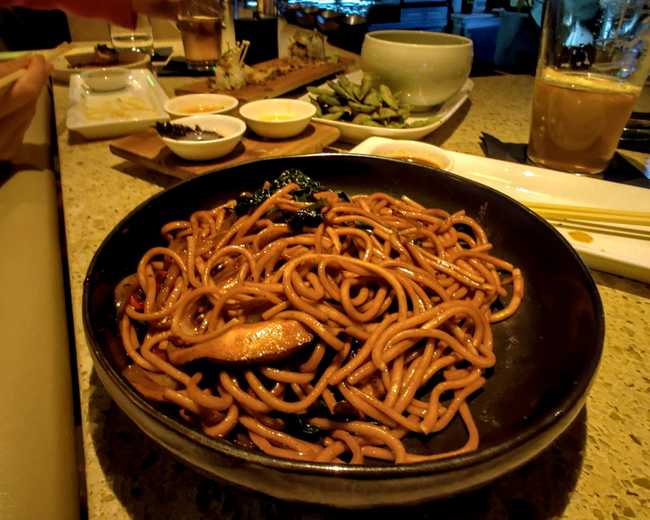 Teriyaki and salt
Once we'd finished our space food we headed to Ground Kontrol, one of Portland's most popular barcades. I've wanted to go to a barcade for years but never had the chance, so I was excited to check it out. It was about a ten minute walk away from Departure and the rain had stopped falling for a little while so we were ready to go.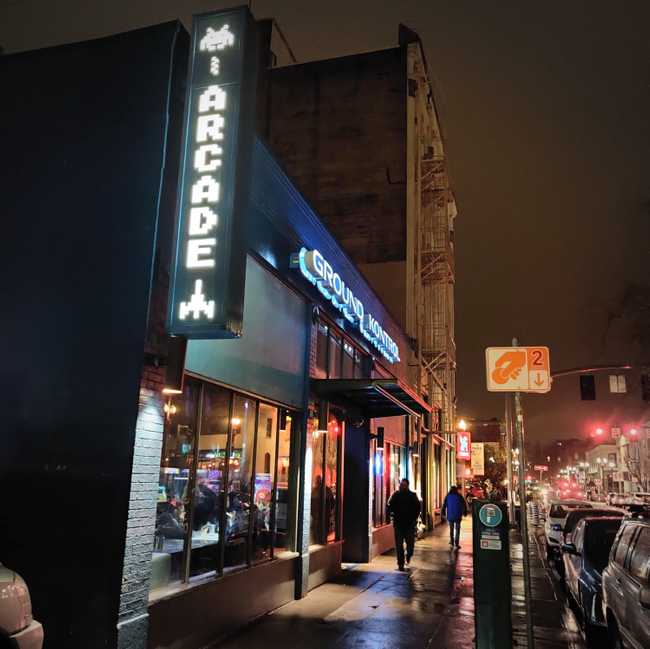 Ground Kontrol
Ground Kontrol had a wide selection of games to choose from, including pinball, puzzle games, fighting games, shooting games, and even a Dance Dance Revolution machine. (Turns out I've lost any skill that I used to have in Dance Dance Revolution.) There was also a wide selection of beer, even though I only managed to have two pints of the same type.
Games are well priced with most costing anywhere from a quarter to a dollar. It was pretty busy in there but waits for machines weren't too bad - if you wanted to try something you would normally be the first to line up.
After an hour and a bit there we decided to call it a day and headed back to the the hotel. It felt like a full day and we had another morning of Portland ahead of us before we hopped on the train back to Seattle.
---